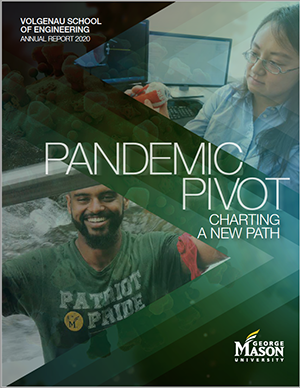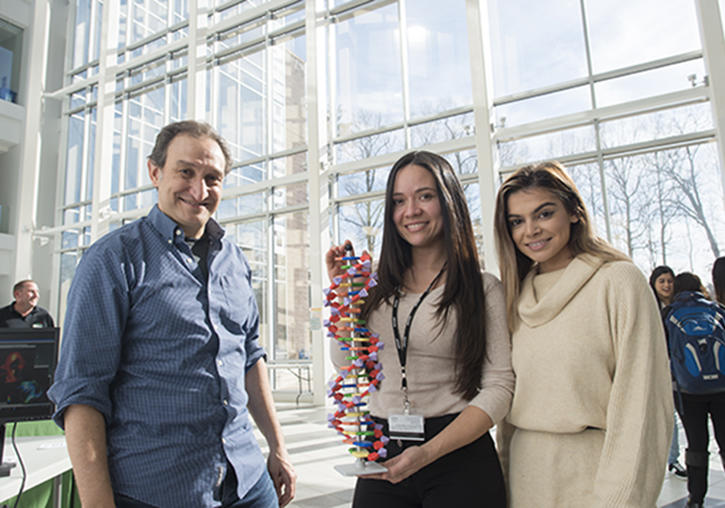 About Us
Location: 4511 Patriot Circle, Fairfax, Va.

Phone: 703-993-1500

Dean: Kenneth Ball, PhD, PE

Founded: Founded in 1985 as the School of Information Technology & Engineering

Enrollment: 8,637 (headcount, fall 2020  beginning of term)

Graduates: 1,735 (2019-20)

Faculty: 250 full-time academic faculty

Active Alumni: 17,009+
School Profile
Our History:
Thirty-five years ago, the school was one of the first to offer specialized information security and assurance programs, and it holds the distinction of having one of the first U.S. recognized civilian center of excellence in this field. Today the school's programs continue that tradition by launching the world's first bachelor's degree in Cyber Security Engineering.
Our Location:
Because our school is located in the heart of the East Coast's most active tech corridor, our undergraduate and graduate students have unparalleled access to the nation's top innovators.
Elite science and technology organizations recognize our faculty as leaders in their fields. Professors bring industry knowledge to the classroom, challenging students to push the boundaries of research, skill, and application based on real-time knowledge of marketplace demand. 
Our Programs:
Building on the school's reputation of spearheading new efforts in information technology, our engineering programs have expanded to apply what we've learned about advanced computing to more traditional engineering disciplines including Mechanical Engineering. 
Our Reputation:
The Carnegie Classification of Institutions of Higher Education ranks George Mason University in its top tier of research institutions, with total research expenditures reaching an all-time high of 149 million in sponsored research expenditures for the fiscal year 2018, making good progress toward the university's strategic goal of $225 million by 2024. In 2020  NSF HERD rankings placed Computer and Information Sciences,12th among all universities, 8th among public institutions and No. 1 in Virginia. Engineering, which Mason entered the top 100 nationally, is now at No. 93, jumping 49 spots from 142 in 2018, 69th among public universities.
Our Research:
The school's research is dedicated to formulating innovative solutions and developing useful technology to solve real-world problems. Some of our recent discoveries include improving wireless communication networks, inventing new ways of imaging with ultrasound devices, and developing robot intelligence and autonomy. Our faculty members and their research teams have also produced promising work for enhancing mental health by combating neurological disorders, improving network security by strengthening IT systems and recovering lost data by using digital laser microscopy.
Our Future:
In the next decade the school expects to continue its transformation to one of the country's largest, most comprehensive schools of engineering by expanding its programs, growing its enrollment, and increasing its research. 
Hallmarks:
First school of engineering in the United States with scholarship focused primarily on information technology-based engineering

First named school and building at George Mason University

More than 25 years of experience in working with big data and cybersecurity

​1 of the first schools in the country to offer a master's in data analytics engineering

11 engineering-based bachelor's degree programs

36 graduate degree programs

9 academic departments

26+ active student organizations

25+ years of experience in big data and cybersecurity

More than $64M in research expenditures in 2020

More than $75M in new research awards in 2020

1st school to offer BS in Cyber Security Engineering

25+ years as a National Security Agency Center of Excellence

80 percent of Volgenau alumni live in Northern Virginia

In 2020 the NSF HERD rankings placed Computer and Information Sciences,12th among all universities, 8th among public institutions and No. 1 in Virginia. Engineering, which Mason entered the top 100 nationally, is now at No. 93, jumping 49 spots from 142 in 2018, 69th among public universities.
Press Resources
The Office of Communications is available to assist the media in contacting our faculty experts and obtaining the latest news, photography, or video regarding the Volgenau School of Engineering (VSE).
To schedule an interview, locate a faculty expert, or suggest a story idea, please call the Office of Communications at 703-993-5595 or e-mail Martha Bushong.
Requests for Use of Photographs
When an outside request comes our way we check the credibility of the source that is asking to use the image. We only send photos out for editorial purposes, no commercial publications or entities.   Additionally, it is important that the subject of the photo knows that their image is being used for marketing purposes. This usually occurs when the photo is taken. Our Mason photographers obtain verbal permission from the professor and/or student before an image is published. We ask that the user credit the photographer, but require George Mason University to be credited.  If you need additional information, please contact the director of communications, mbushong@gmu.edu.
Media Access to Campus
Media representatives are are asked to arrange interviews and photo shoots with VSE faculty, staff, or students in advance through the Office of Communications. A university staff person will accompany any reporters, video crews and photographers while on campus to ensure confidentiality, privacy and appropriate sensitivity to students and families.
News media must seek permission from the University Office of Communications and Marketing to set up to videotape or broadcast live from campus and they must park in designated areas. Permission will usually be granted for exterior work as long as it does not interfere with university operations. The university will sometimes limit television broadcasting to specific locations. A representative from the school must be present unless you are notified otherwise.
In all circumstances, news media representatives must seek permission to enter or shoot in interior spaces including laboratories, classrooms, or administrative buildings. Permission is usually given as long as the reporting activities do not disrupt university activities, interfere with privacy or jeopardize the safety of university personnel, visitors or facilities
The Volgenau School of Engineering is on the Fairfax Campus of George Mason University at:
4511 Patriot Circle
Fairfax, Virginia 22030