Since its inception, Mason Engineering's friends and alumni have provided generous philanthropic support. Financial gifts make it possible to educate new generations while pushing the boundaries of knowledge through research that can improve and save lives. Help make that possible.
Building for the Future
Our accomplished faculty and students are blazing trails in engineering, and their numbers are increasing. 
Mason Engineering's continuing growth creates an urgent need for new space to accommodate and reconfigure labs and classrooms, outfitted with state-of-the-art tools and equipment.
Our alumni enjoy the highest average starting salary of all Virginia public schools, and more than 80 percent are employed within six months of graduation. 
​We want to become a top-tier, prominent leader in technology and engineering. Your gift can make that happen, making a direct impact on our efforts to enhance people's lives and make the world safer, cleaner, healthier, and more prosperous​​.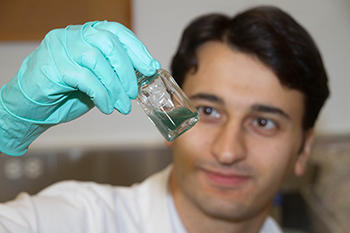 Your gift could:
Make an engineering education more affordable through scholarships.
Many of our students are first generation, and often work full-time while they earn degrees. Some are married with families; others are veterans who have finished a tour of duty and are now returning to finish a degree or earn an advanced degree.
Scholarships make the difference to those juggling multiple financial responsibilities, and can also be an incentive for an outstanding high school student to choose Mason over another university.
Need and merit-based scholarships are available to Volgenau students. 
Scholarships are divided into the following types:
Distinguished scholarships, of $75,000 or more, which are supported by private individuals as well as corporations. This type of scholarship enables the school to recruit an academically gifted high school student and/or merit scholar and cover the cost of their tuition as well as their room and board for four years.​
Endowed scholarships, in which donations of $25,000 or more create a permanent fund, invested for growth and income whose purpose is to provide a perpetual source of income. Endowed scholarships can be funded from a one-time payment in full, or arrangements can be made to make payments over a period of time, i.e. five years with an initial gift of $5,000, with the understanding that it will not become a named endowment, and awarded to a student, until the balance reaches $25,000. Endowments may be named in recognition of the benefactor establishing the endowment, and while it is preferred that scholarships be unrestricted, occasionally it can be appropriate to specify that the scholarship be awarded to students from a specific academic focus or group. The donor may not, however, actually name an individual student to receive the award. A scholarship committee identifies appropriate recipients.
Non-Endowed scholarships, in which a fund is established, but depends on donations for its funding.
Annual scholarships, in which donations of $1,000 or more come from companies, organizations, and individuals who choose to give annually to support scholarships.​
Build and outfit classroom and lab spaces with equipment geared for hands-on learning.
The need for up-to-date equipment and accommodating classroom space is accelerating at the same pace as the demand for well-trained engineers. We recognize and accept that this demand comes with a serious commitment of financial resources.  Giving to these activities at Volgenau can help ensure that:
Computer labs and software are of the latest technology.
Instructional space is optimized for specialized engineering demonstration and modeling.
Seniors have the dedicated space needed to complete their final thesis projects.
Volgenau is committed to expanding our educational footprint on campus in Fairfax and on George Mason University's Prince William Science and Technology Campus. Your contribution to these efforts will help to build lab spaces specifically designed to give our students the hands-on experience necessary to launch successful engineering careers. 
Our plans include:
Locating targeted programs in the center of a high-tech manufacturing engine on the Prince William Science and Technology campus.
Expanding senior mechanical engineering student project space in Bull Run Hall. 
Establishing and growing the Systems Engineering and Operations Research program at Mason Korea. 
Fund faculty advancement and instructional excellence.
Your financial support builds momentum for the advancement of professional engineering.
As a top-tier specialized institution, our consistent goal is to recruit and maintain the absolute best faculty available in their fields. Endowed professorship is one of the largest tools we deploy to build faculty excellence.
It is one of the most important gifts you can give to a university.
Endowments attract and support the instructional and research efforts of an exceptional faculty member. As a competitive nomination, the endowed professor is a distinguished leader in their field. 
Endowed gifts are unique in structure as they establish a permanent fund for a specific field of interest. The principal of your contribution is never spent, rather, the funding for the continuation of the endowment comes from income earned on the principle of the fund. This ensure continuity of progress to a specific research and instructional goal for the lifetime of the fund.
Build a legacy for your family and the future.
Planned giving makes an indellible and positive mark on the landscape of Volgenau's future success. 
Legacy gifts represent sustainability for key academic and research programs as well as scholarship funds to help attract and retain students. These gifts provide benefits to future generations of Mason students—and to you and your heirs.
There are several ways to make a gift through your estate plans:
You can make a gift of cash, securities, real estate, or other property directly to Mason.
You can designate Mason a specific percentage of your estate.
You can designate Mason as full or partial beneficiary to your retirement plan or life insurance policy.
You can designate Mason as the beneficiary of all or part of the remainder of your estate or trust after the payment of estate related expenses and other bequests.
You can establish a charitable gift annuity or charitable remainder trust with Mason. You can designate Mason as the full or partial beneficiary of an annuity or trust you have established.
Help Mason Go Faster, Farther
You can help propel George Mason University and our students to a bright new future. The Faster Farther campaign is a one-stop portal for directing support to the university as a whole, or directly to a Volgenau program or fund. Your support is the momentum that drives Mason to achieve important goals faster, and for our impact to go farther.