Companies Will Come to You
You're ready to enhance your skills and value by earning a degree in engineering, and you want to study with the best. Mason Engineering is the place.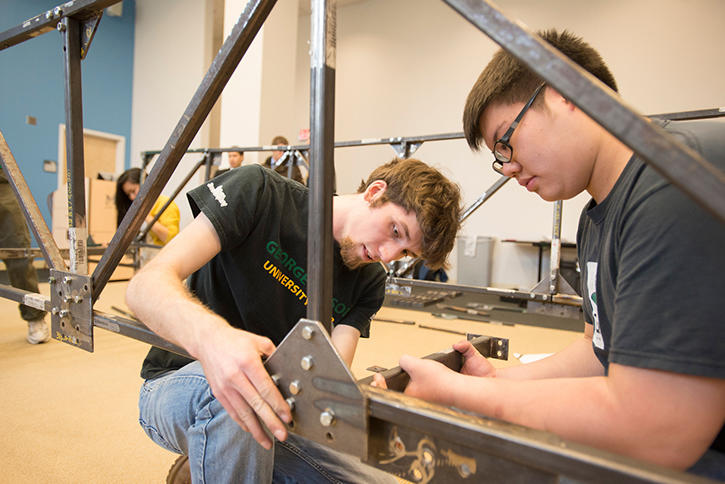 Professionally Focused Learning
Because Mason Engineering is located in the heart of one of the East Coast's most active tech corridors, our undergraduate and graduate students have unparalleled access to the nation's top innovators.
Elite science and technology organizations recognize our faculty as leaders in their fields. Professors bring industry knowledge to the classroom, challenging students to push the boundaries of research, skill, and application based on real-time knowledge of marketplace demand. Employers know a candidate with a degree from Volgenau will have skills that are up-to-date and highly valued.
Benefits of Studying at Mason Engineering
Few U.S. universities can brag that their engineering programs were built to directly assist with official national security and defense priorities. At Mason, the motivation to grow our extensive applied information technology and engineering degree offerings was in direct response to a request from the U.S. Government. Thirty years ago, we were one of the first to offer specialized information security and assurance programs, and we hold the honor of having the first U.S.-recognized civilian center of excellence in this field. 
Building on our reputation of spearheading new efforts in information technology, our engineering programs have expanded to apply what we've learned about advanced computing to more traditional engineering disciplines. Your friends at other schools may build a combustion engine in their Mechanical Engineering lab, but at Mason, you'll be building sensors that detect faults in performance, and help the machine run more efficiently.
Our faculty is an elite group of professionals with experience and connections in the industry. Many have come to the classroom after years of applying their knowledge in the field. Mason Engineering professors are internationally recognized for groundbreaking achievements in technology and engineering.
They're also passionate about giving students the tools to advance engineering to new levels. Our faculty members are excited about the new directions and pathways information technology is making across the traditional engineering landscape. You'll hear about these advances in lectures, special presentations, and informal gatherings throughout the academic year.
Mason is within one of the healthiest job markets in the country, which means that many of our engineering graduates build rewarding careers here in the national capital region. We welcome our alumni's input when it comes to current trends and demands in the tech industry. We value the knowledge they share, building it into our curriculum to prepare our students for the best possible future.
There might be great engineering programs at other universities and colleges, but few are within technology hot spots such as the Northern Virginia Technology Corridor.  
CSC, Northrup-Grumman, Lockheed, Google, Amazon, Orbital, SAIC, CACI, and many others have major offices a short drive from Mason's campus. Government agencies such as the CIA, NRO, the Department of Homeland Security, the Department of Defense, and the National Institutes of Health – all located in the D.C. region  – set the pace for the newest technology applications.
Job Prospects After Graduation
At other schools, you might need to catch a plane to an interview at the closest tech company.
Not at Mason –​ our location makes access to a hot job market easy. With our faculty, business, and government contacts, we're connected to local enterprise leaders, and our programs are built to respond to current industry demands.
Volgenau offers students unique benefits:
Networking and fieldwork opportunities with some of the nation's top tech firms, which are located near the Fairfax Campus and the Science and Technology Campus in Manassas.

Co-operative research programs with federal, state, and local governments, as well as private-sector research partnerships.

Numerous and diverse peer mentorship, tutoring, undergraduate research, graduate teaching assistant, and graduate research assistant opportunities.

An interdisciplinary academic structure, with 21st-century technology at the forefront.

Graduate programs with convenient class times and locations that fit into a work schedule.