Highly sophisticated hackers and cyber terrorists are developing new ways to break through digital firewalls, hold information for ransom, and leverage malware to steal identities. Mason trains cyber warriors to be the shield and the sword, defending data while infiltrating and sabotaging attackers.
Be the Tip of the Digital Spear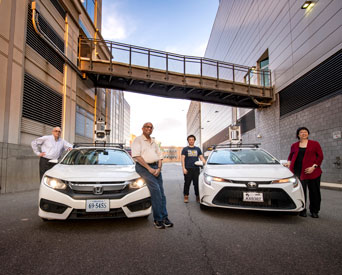 Almost everyone is interlinked in the digital world, and that connection is becoming a bigger part of our lives every day. Computers control such vital systems as utilities, transportation, markets, and defense. Even our homes are becoming a part of the Internet of Things. 
As digital data increases exponentially, keeping it safe gets tougher.
That's where you come in. If you want to make a difference while building a career with massive growth potential, Mason will help you make it happen.
Mason is an incubator for the newest networks, systems, and trained experts, and your courses provide theoretical and practical knowledge of all aspects of cybersecurity.  
Careers and Contacts 
The Bureau of Labor Statistics projects a 32 percent growth rate in information security analysts posts through 2032, and companies look to us to fill those positions. 
Mason has been recognized as a Cyber FastTrack National "Top Tier College" that is the best in the nation in Cybersecurity Talent Discovery, leading a nationwide field of 5,200 U.S. colleges. 
And our proximity to D.C. provides our graduates with a rich pool of jobs with industry, government, military, and non-governmental organizations. 
Our alums hold positions as cyber associates, cybersecurity engineers, security analysts, network engineers, and cloud security engineers. 
Don't be surprised if recruiters come calling before you graduate.
Research and Expertise 
Mason pursues research within government and industry organizations that depend on strong and reliable information security, including information secrecy and integrity in the military, civil, and commercial sectors. 
Several research centers focusing on cyber security are affiliated with Volgenau, including: 
The Center for Secure Information Systems, established in 1990, was the first academic center in security at a U.S. university. Its emphasis on information security is unique among U.S. institutes of higher learning. It's also one of the National Security Agency's original Centers of Academic Excellence in Information Assurance Education, a designation it continues to hold.   

The Center of Excellence in Command, Control, Communications, Computing, Intelligence, and Cyber, is the nation's first and only civilian university-based entity offering a comprehensive academic and research program. The center researches sensing and fusion, C3 architectures, communications, and signal processing, command support and intelligent systems, modeling and simulation, and distributed education and training. 

The Center for Assurance Research & Engineering takes a multidisciplinary approach to cybersecurity, encompassing technology, policy, business, and leadership. Research areas include security for distributed systems, mobile apps/devices, industrial control systems, and networked medical devices, as well as policies to secure critical infrastructure and guide cybersecurity leadership/governance.