Body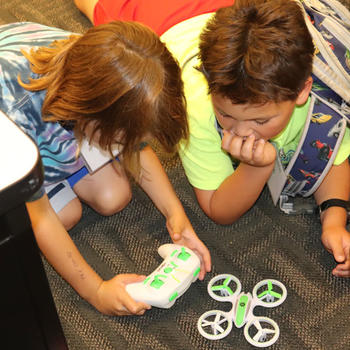 The Nguyen Engineering Building buzzed with activity on Saturday mornings throughout the month of July as the Office of Diversity and Inclusive Learning hosted 200 elementary, middle, and high school students for STEM Summer Saturdays.  
"It was exciting to see so many kids here at the college. We hope the experience sparked an interest in STEM that will continue throughout their school year, and we see some of them again next year," says Mercadi Crawford, diversity associate for the College of Engineering and Computing (CEC).  
The students learned about flying drones, forensic science and entrepreneurship, statistics, career pathways and preparing for college. College of Engineering and Computing faculty and staff volunteered to make the experience both enjoyable and educational. Student mentors and orientation leaders were also on hand to help. 
Parents said their children raved about the program were grateful for the opportunity to explore STEM careers, see possibilities, and focus on abilities. They came home excited to research careers in fields such as forensic toxicology and other areas they might not have otherwise known about. Many parents look forward to seeing the program again next year. 
"The support from our partners in the College of Science, the National Society of Black Engineers, STEAM Pipelines, The Abacus Project and the Department of Statistics was spectacular," says Christi Wilcox, CEC diversity associate. "We are so thankful for their contributions."