Body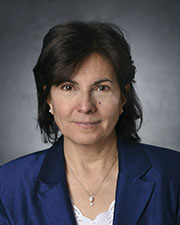 College of Engineering and Computing (CEC) Professor Janis Terpenny has joined the National Science Foundation Division of Civil, Mechanical and Manufacturing Innovation (CMMI) where she will serve in the expert role and lead in the creation of CMMI's Manufacturing System Integration program.
Terpenny came to the CEC in April as a professor with joint appointments in the Department of Systems Engineering and Operations Research and the Department of Mechanical Engineering.
She says the CEC's growth and abundant opportunities are a big part of what drew her to the college.  "Mason is very open to new ideas, innovation not only in research but in new programs and how we prepare the next generation … work with industry and community partners.  All fit my passions well," says Terpenny.
She is well known for her research on smart integrated systems and processes for design and manufacturing and her innovations and research in engineering design education. Her commitment to diversity and inclusion stems from personal experiences, and professional accomplishments. Terpenny is dedicated to inspiring, mentoring, and enabling diverse and inclusive education, research, and work environments.