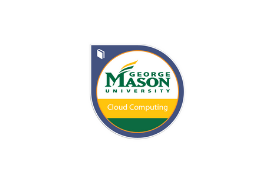 Digital Certificate (Badge)
Digital Certificate (Badge)
The certificate provides a solid foundation for cloud services management and for building, deploying, and maintaining various cloud models and applications.
Beginning in October, faculty from the Department of Information Science and Technology (IST) will begin offering a suite of fully online courses to working professionals who want to gain a competitive advantage in this high demand field.
When you complete the certificate you will be well-positioned for passing the AWS certification exams, including the Foundational Certification (AWS Certified Cloud Practitioner), the Associate Certifications (AWS Certified Solutions Architect, AWS Certified Developer), and the Specialty Certifications (AWS Certified Data Analytics, AWS Certified Security).
---
When you enroll in this program your teachers will be experts in the field with years of experience. Here's what they have to say.
Associate Professor Diana Wang
Expect a fast-pace. "Each course is demanding and challenging," says Diana Wang, associate professor in IST who participated in the creation of the certificate. She also developed a core course in the program, called Application Development in Cloud. Students should be prepared for the courses to move at a much faster pace than those in the bachelor's degree, she says.
The courses are designed for working professionals who have prior knowledge in the field and can handle the demanding workload and balance multiple tasks at the same time.
Assistant Professor Pouyan Ahmadi
Plan for a focused, targeted approach. This sequence is carefully chosen, thoughtfully organized training for cloud that is not offered in the bachelor's degree at the current time.
"This kind of training bridges the gap between academics and industry," says Pouyan Ahmadi, assistant professor in IST. "Employers are eager to hire people with this sort of training and 58 percent ask for experience in cloud computing by name."
Ahmadi, who is a self-described networking guy, will be teaching the foundational course and a course in service management.
Adjunct Professor Bobby Varghese
Be ready to hit the ground running.  Students should be sure that they understand cloud computing before enrolling and should have practical uses for what they learn, says Bobby Varghese, an adjunct professor in IST, who has been working in security for more than 15 years. "After the first course, all of the course work is hands-on. The program assumes that students already know the basics."